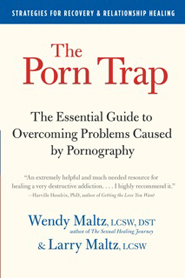 Wendy's groundbreaking pornography recovery book:
The Porn Trap: The Essential Guide to Overcoming Problems Caused by Pornography (with Larry Maltz)
Web articles:
"Recognizing Problems Caused by Porn" by Wendy Maltz
"Out of the Shadows" aka "Is Porn Bad for You?" by Wendy Maltz
Metro
Cyber Solutions Today
"Interview with Wendy Maltz: The Impact of Cyberporn on Teens"
_______
30 minute video of Wendy's conference keynote address on pornography problems and healthy sexuality at the Utah Coalition Against Pornography (UCAP) 2009 Conference.
Media interviews:
Remojo founder, Jack Jenkins, and Wendy discuss, "Porn Recovery and Sexual Intimacy"  youtube video: https://www.youtube.com/watch?v=xqwVSUOULs8  or audio only format: https://open.spotify.com/episode/4Po7Ci5UXloCjb2EcJoLBE?si=c75f6487a83143a1&nd=1
Stephanie Boye of the educational Laid Bare by Anonymous program and Wendy discuss "Talking with Your Teens About Sex and Porn" https://lbwax.libsyn.com/21-steps-to-escaping-from-the-porn-trap-with-wendy-maltz
Dear Sugar program with Cheryl Strayed and Steve Almond: on WBUR… on "Redux: Is Porn Wrong?" https://www.wbur.org/dearsugar/2021/03/27/redux-is-porn-wrong
Dr. Nazanin Moali and Wendy discuss how to identify and heal porn-caused sexual problems on the Sexology Podcast, Episode 107: "Hooked on Porn?"
The Negative Intimate Effects of Pornography – On Dr. Radio
Singer/Songwriter Alanis Morissette interviews Wendy Maltz on her "Conversation with Alanis" podcast (Episode #5) discussing sexual abuse, healing, sexual fantasies, porn issues, and love.
Wendy and Larry discuss "The Porn Trap" on AM Northwest TV
KSKQ Radio "Gary Wilson interviews Wendy Maltz, co-author of 'The Porn Trap" Show No. 6; Listen here, Show 11 listen here.
"Freedom From Porn Addiction" Interview with Wendy; Listen here.
Debborah Cooper Blog Talk Radio/Date Smarter …Not Harder – The Relationships Talk Show, "Relationship Problems Caused by Sexual Imagery"
Free Porn Prevention and Recovery Posters: