How can counselors and therapists help survivors to heal sexual problems? Dr. Megan Speciale, the host of The Thoughtful Counselor podcast, sits down with Wendy to discuss sexual healing in the era of the #MeToo movement. Megan, an Assistant Professor in the Counseling Program at Palo Alto University has worked as a professional counselor and advocate in a variety of community settings, focusing primarily on sexual health and wellness.
In this episode of her podcast, Megan and Wendy focus the conversation on what counselors need to know who are helping survivors of sexual heal from the intimate repercussions of their past abuse. Wendy shares many ideas, effective strategies, and innovative interventions for intimate healing now that society has entered the #MeToo era.
Megan and Wendy discuss how to support survivors' sexual wellness after abuse, including specific strategies that you can use with your clients and loved ones to support their process of healing. The dive deep into talking about the affect of sexual abuse on sexuality, the healing process, resources for recovery, readiness for healing, and therapist do's and don'ts.
Topics covered include:
How awareness of sex and sexual abuse has changed in the last few decades
How to approach sexual issues with clients without triggering trauma-related reactions
How to help normalize a survivor's feelings and reactions
How therapists can address unconscious power dynamics and encourage the survivor to be in control of their own therapy
How a survivor's anger can be reframed and channeled to initiate and energize healing
How therapists can help survivors reclaim their power and define sexuality for themselves
How new insights about one's sexuality can lead to profound positive change and healing
How the healing process is about reconditioning, and that takes time
How relearning touch exercises are essential to full healing
How to know when a client is ready to do active healing work on touch and sex
How to be sensitive to flashbacks and triggers, and shift out of relearning touch when needed
How to encourage and support, without pushing or controlling
Why sexual healing is a slow process, and can't be rushed
How counselors can build their own confidence and competence in doing this work
How to tailor the strategies and interventions to meet the individual needs of clients
How to create safety in session by honoring boundaries
How to find support in the local and national therapeutic community for doing this work
Sexual Healing After #MeToo – Conversations on What Counselors Need to Know, Megan Speciale with Wendy Maltz and Jimanekia Eborn, The Thoughtful Counselor, podcast Episode 97, 9-12-2018.
Listen here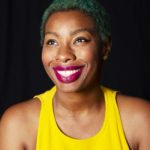 In the last 30 minutes of this podcast episode, Megan has an illuminating conversation with Jimanekia Eborn, a sexual health advocate and trauma expert on how unresolved shame from sexual abuse can hamper a person's ability to connect with others and enjoy life.