Sex Abuse Healing Table of Contents
What is Sexual Healing?
So many of us suffer from intimacy and sexual problems that are rooted in past sexual abuse and trauma. Our experiences may cause us to have uncomfortable reactions to touch and sex, to be unable to talk with our partners about sex, and to be unable to experience the pleasure that healthy sex can bring to our lives and our relationships.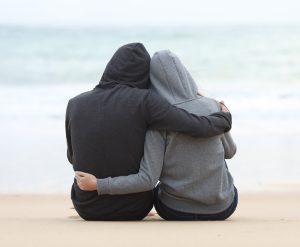 We may be troubled by sexual problems that are common repercussions of past sexual abuse, yet not realize the connection between our present-day problems and past abuse. Our ignorance can lead us to the false conclusion that there must be something wrong with us, or unusual about our sexuality. We can't see that the sexual problems we're having are normal, understandable reactions to the intimate nature of the sexual assault and abuse that happened to us.
Misinformed and isolated in emotional pain, survivors may fail to make important connections, and may remain stuck in cycles of self-blame and sexual unhappiness, seeing no way out. The good news is that it is possible to heal the most intimate and personal repercussions resulting from past sexual trauma.
Sexual healing is a process of identifying and overcoming the ways sexual abuse has harmed your sexuality. You realize you are not alone in having been abused or in how you reacted to it. You gain important information, change your attitudes about sex, and learn new skills that allow you to move forward, creating safe, mutually joyful, deeply-rewarding sexual experiences and that are free from the past, and of your own choice and creation. To sum up: sexual healing enables you to get unstuck.
How do I start to heal?
The first step in sexual healing is to make the connection between things that have happened in the past and problems in your sex life today. That's a big first step because many people have suppressed past sexual abuse or don't consider what happened to them to have been abuse. For example, some people think that if it happens inside a marriage or long-term relationship, it can't be abuse – when that is not true. The best way to think about this issue is that whenever sex is used to harm or control someone rather than to experience mutual pleasure with someone, that can be considered sexual abuse. This means that in addition to sexual assault and rape, voyeurism, obscene phone calls, use of sex videos for blackmail, and sexual harassment are abuse.
Making the connection involves becoming familiar with the specific ways sexual assault and abuse can impact sexuality years later. The following list of common intimate repercussions is known as the "Top Ten Sexual Symptoms of Sexual Abuse." It is described in detail in Wendy's classic recovery book, The Sexual Healing Journey (p. 3).
Avoiding, fearing, or lacking interest in sex
Approaching sex as an obligation
Experiencing negative feelings such as anger disgust, or guilt with touch
Having difficulty becoming aroused or feeling sensation
Feeling emotionally distant or not present during sex
Experiencing intrusive or disturbing sexual thoughts and images
Engaging in compulsive or inappropriate sexual behaviors
Having difficulty establishing or maintaining an intimate relationship
Experiencing vaginal pain or orgasmic difficulties
Having erectile or ejaculatory difficulty
These symptoms can show up at any time, right after an assault or years later. They can exist both before and after we've identified ourselves as survivors.
After making the connection, more sexual healing steps can be taken to help change sexual attitudes and behaviors, learn new "relearning touch" approaches to physical intimacy, and develop a healthy sexual self-concept moving forward. You can improve communication with a partner and overcome troubling difficulties with functioning, feeling pleasure, and experiencing sexual fulfillment.
The comprehensive program of sexual healing is summarized in our article "Sexual Healing from Sexual Abuse" and fully explained in The Sexual Healing Journey: A Guide for Survivors of Sexual Abuse (now available in Spanish as El viaje para sanar la sexualidad: Una guía para sobrevientes de abuso sexual.
Remember: Sexual healing is possible, no matter your age or your past history.
If you were sexually abused you are not alone
To watch more of Wendy's Supportive Messages to Survivors Click here.
Listen to celebrity survivors Elizabeth Smart and Alanis Morissette talk candidly with Wendy and share their own journeys to recover from abuse and reclaim their sexuality.
¿Hablas español?
Para acceder a nuestros recursos en español de sanacíón sexual, haz clic aquí
---
Featured sex abuse healing resources
Our work in sexual abuse healing is vast. We want to make it easy for you to find help and healing via this website. Explore the resources below, and find more via this Sex Abuse Healing Library.