When Porn Gets in the Way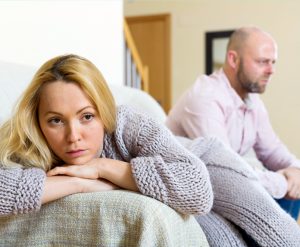 A powerful product
Porn use is not harmful for everyone, but it can create problems for anyone. If having a healthy sex life is your goal, it makes sense to understand the possible negative consequences to your mental, physical, sexual and relationship health that might result from regular exposure to pornography.
Since the 1970s, due to advances in technology, pornography has changed from a costly, hard-to-get product – shown in seedy movie theaters or delivered by mail in brown paper packages – to an over the Internet, cell-phone friendly, easily available 24-7, steady stream of content, that is hard-to-get-away-from. The porn industry has grown in mammoth proportions over the years into multi-billion-dollar profit-making business. While it provides free porn to attract users, it uses more extreme content, powerful algorithms and other hidden technologies to keep them coming back for more, and to steer them to paid content.
Studies on today's porn reveal it to be a potent, addictive product, capable of influencing sexual attitudes, desires, and experiences in many ways.
Unfortunately, instead of teaching healthy sex ideas and values, most of today's commercial pornography relies on images and scenarios that dismiss or encourage sexually aggressive, abusive, irresponsible, and disrespectful sexual behavior. Because porn has become the primary source of sex education and experience for teens, many young people enter their dating years unaware that porn has handicapped them in terms of their ability to form sexually healthy, loving, and satisfying relationships.
For more information how pornography has changed, see Wendy's engaging article "Out of the Shadows/Is Porn Bad for You?" In it she shares the increased number of people seeking help for serious problems with pornography caused her to change her attitudes about it as a sex and relationship therapist.
The dark side of porn
In our culture using porn is often presented as a harmless way to jumpstart our sex lives, revive flagging desires, or serve as a substitute to real human connection if we don't have a partner. The fact that it's right there at our fingertips, makes it easy to get in the habit of relying too heavily on it.
But it's not just the amount of porn we might use that we need to consider. It's also the type of porn we're exposing ourselves to, and the way we're using it, that matter. For instance, just a little bit of child porn (which, in reality, is child abuse porn) can warp our evolving sexual arousal patterns, land us in jail, and seriously harm our lives, as well as the lives of many others. And watching porn at work, no matter how tame or infrequent, can wind up costing us our jobs and livelihoods.
In terms of our sex lives, porn use can cause a number of barriers to a real and healthy sex life – from creating false expectations about what a partner may be willing or able to do, to desensitizing us and making it harder to find real sex fulfilling.
Intimate partners of porn users can also suffer. If they have a problem with the porn user's behavior, intimate partners may experience the relationship with and dependency on porn as an infidelity, a betrayal of sexual loyalty and trust, and feel diminished in terms of their own sexual worth and attractiveness. Porn use can cause severe difficulties when people in an intimate relationship have different views about its presence and role as a sexual outlet. It's not a surprise that in recent years pornography has been identified as a primary issue triggering relationship stress, break-ups and divorce.
For an individual, as well as for a couple, who want to avoid negative outcomes from porn use, becoming better informed about porn's dark side, and staying aware, will be key to achieving your goal.
Staying aware of the hazards of porn
This Hazards of Porn poster is a great way to stay informed and alert. It provides a quick-reference guide for identifying many possible negative consequences from porn use.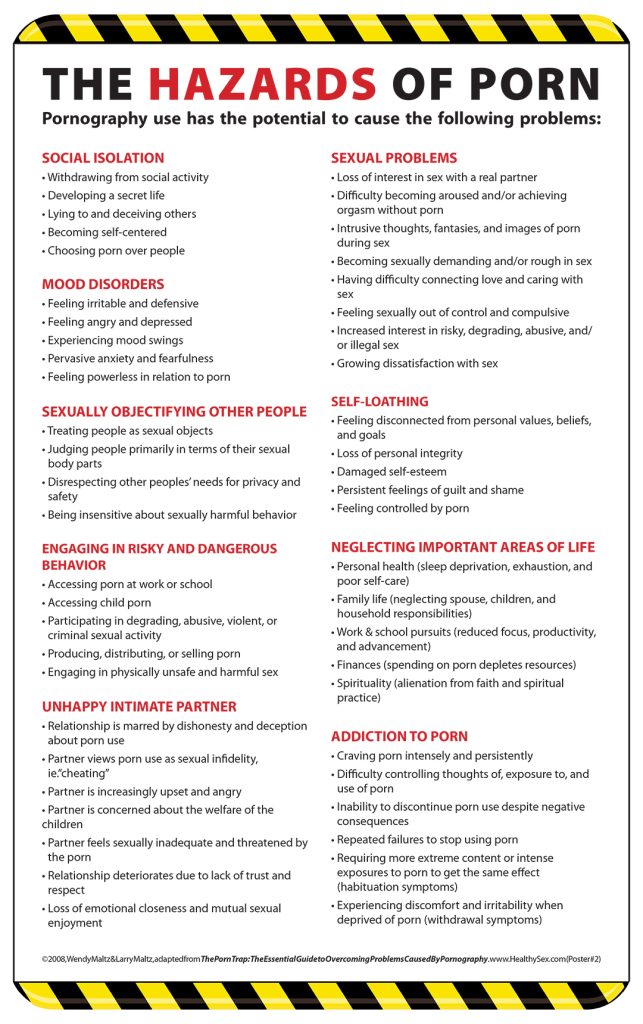 The poster can function as a warning label for porn – similar to the warning on cigarette packs and list of possible negative side-effects that comes with medications. Feel free to print it out at letter or legal size, post it, and reference it at any time.
Are you harming yourself and your sex life with porn?
You are the best person to determine if you have a serious problem with porn use or not. No one else is likely to know enough to be able to do that for you. People use porn in private, often keeping it secret from the people they live with and who care the most about them. Unlike other behaviors, such as drug or alcohol abuse, overeating, or smoking cigarettes, a doctor is unlikely to ask if porn use has become a problem. Minus outward signs that a health problem exists, it's easy for porn users to remain ignorant, in denial, or simply silent about possible symptoms and signs that porn is slowly taking them down. The good news is that if you think you may have a problem, resources exist to help people determine, for yourself, whether that is the case.
Here at HealthySex.com we provide numerous resources that can help you identify, for yourself, if you have a problem with porn. Our article, "Recognizing Problems Caused by Pornography," contains a checklist for self-evaluation. Wendy and Larry's book, The Porn Trap: The Essential Guide to Overcoming Problems Caused by Pornography describes in detail the full range of possible problems from porn and how they develop.
Remember: You have a right to determine the direction and quality of your sexual expression and relationships without your being controlled by an industry that profits from exploiting you and jeopardizing your health.
What if you already know you have a problem with porn?
If you already know you have a problem with porn, you are not alone. Millions of people are finding themselves in the same boat. For some people, making changes in how they use porn, how much they interact with it, and what kind of porn they use is enough to move themselves away from danger zones. But for other people, porn's grip on their sexuality is so strong, and it has become so in control, and impacting them in so many ways, that their only reasonable alternative is to quit it altogether. The good news is that once people face porn's impact honestly and directly, it is possible to move out of isolation and away from harmful behaviors and influences on your sexuality.
Recovery from pornography problems involves gaining new insights and developing new skills you need to succeed. It's no wonder that in The Porn Trap Wendy and Larry devote a full half of the book to recovery. It's not particularly an easy process – giving up pleasurable behaviors, no matter how problematic they've become, never is. The process can include ups and downs. It helps to keep front and center what motivates you to change your relationship to porn, shifting what that looks like, or breaking away from porn altogether.
If your goal is to quit porn, the following six basic action steps help increase success:
Tell someone else about your porn problem
Get involved in a treatment program
Create a porn-free environment
Establish twenty-four-hour support and accountability
Take care of your physical and emotional health
Start healing your sexuality
These action steps are described in detail in The Porn Trap. The book also provides information on how to handle and prevent relapses, repair broken trust and heal as a couple, and develop new approaches to touch, sex, and sexual fulfillment.
---
Featured porn recovery resources
Wendy had decades of experience researching how pornography affects the everyday sex lives of users, as well as helping clients with problems leave those behind. If you believe porn may be getting in the way of your sex life, you may want to explore the sample of resources below. For a deeper understanding of the issue, more readings are listed – and just a click away – in the "Porn Recovery Library" located on this page.