Find out why this groundbreaking, comprehensive self-help guide has become a must-read for anyone wanting to keenly understand the problems caused by pornography and what steps can be taken to overcome them.
The Porn Trap: Overcoming Problems Caused by Pornography, Wendy Maltz LCSW, DST, and Larry Maltz LCSW (Harper, 2010) paperback.
Order: Amazon | Amazon Kindle l Amazon Audiobook
NEWLY RELEASED IN AUDIO FORM!!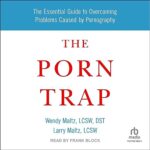 Barnes and Noble Barnes and Noble Nook book
Description
Compassionate and empowering, The Porn Trap is the first book to address the full range of pornography-related problems, which have skyrocketed since the explosion of the Internet and other electronic media. Based on interviews and dramatic true stories, this book provides help for everyone from the recreational "dabbler" to the compulsive addict, as well as partners of porn addicts. Wendy and Larry Maltz present readers with a wide range of simple but effective healing strategies and techniques.
The Porn Trap helps readers to:
Identify and evaluate the impact of porn
Decide whether it's time to quit using porn
Learn how to stop using porn
Rebuild self-esteem and restore personal integrity
Heal a relationship harmed by porn use
Develop a thriving and satisfying sexual life without porn
TABLE OF CONTENTS

ACKNOWLEDGMENTS
INTRODUCTION
PART ONE: BECOMING AWARE
1. The Hidden Power of Porn
2. First Encounters
3. The Porn Relationship
4. To See or Not to See – The Consequences of Porn
5. Partners in Pain
6. Hitting Bottom
PART TWO: HEALING
7. Getting Motivated to Quit Porn
8. Six Basic Action Steps
9. Handling and Preventing Relapses
10. Healing as a Couple
11. A New Approach to Sex
12. True Freedom and Fulfillment
RESOURCES
INDEX
ABOUT THE AUTHORS
Praise for The Porn Trap:
"An excellent, thoughtful, and hopeful guide providing effective help for those who struggle with our newest and most challenging mental health problem–pornography addiction."
–Patrick Carnes, PhD, author of Don't Call It Love and In the Shadows of the Net
"The Porn Trap is the defining resource for helping people with porn problems. Written with great compassion, it inspires hope and presents a clear path for healing."
–Claudia Black, PhD, author of Deceived
"Larry and Wendy have done a masterful job of defining the problem of porn and giving the reader a marvelous plethora of treatment options. This is a must read for anyone who cares about someone hurt by porn addiction. For those struggling themselves, this book is a lifesaver!"
–Dr. Ted Roberts, pastor, counselor, and author of Pure Desire
"An extremely helpful and much needed resource for a very destructive addiction. The Porn Trap includes clear and practical guidance for healing the emptiness caused by porn. I highly recommend it."
–Harville Hendrix, PhD, author of Getting the Love You Want and Receiving Love
"This intelligent book brings a healing voice to an issue that too often divides and devastates partners—it goes way beyond 'just say no,' to offer heart-opening guidance that will help you explore new dimensions of sexual desire and intimacy."
–Gina Ogden, PhD, author of The Heart and Soul of Sex and The Return of Desire
"The Porn Trap is a very helpful book for those who find pornography to be destructive in their lives."
–Ralph H. Earle, PhD, author of Lonely All the Time
"With clarity, compassion, and understanding, Wendy and Larry Maltz help readers comprehend the magnitude of the problem and porn's highly addictive nature. Their vast knowledge of healing and regaining a healthy sexuality embedded in a true relationship, provides readers with a wise and helpful guide."
–Charlotte Sophia Kasl, PhD, author of Women, Sex, and Addiction and If the Buddha Dated
"Groundbreaking. This is the best book on the market to help compulsive porn users and the people who love them to confront and change this destructive pattern."
–Barry McCarthy, PhD, author of Men's Sexual Health and Rekindling Desire
"Insightful, well-written, and practical. The Porn Trap is the authoritative text for understanding and overcoming the negative impact pornography has on self, intimacy, and others."
–David Delmonico, PhD and Elizabeth Griffin, MA, authors of In the Shadows of the Net and Cybersex Unhooked
"The Porn Trap offers much needed insight, direction and hope to men and women struggling to escape the net of fantasy, sex, and addiction."
–Robert Weiss, LCSW, CSAT, author of Cruise Control and Untangling the Web
"Smart and straightforward — without unnecessary politics, finger-pointing, or moralizing — The Porn Trap is sure to provide aid and comfort to many men and women."
–Pamela Paul, author of Pornified
"Porn is like junk food–it provides little in the way of real nutrition for your sexual health. If you or your partner are suffering as a result of consuming these empty calories, this important and timely book shows you how to push away from porn and start experiencing the genuine nourishment of real love."
–Ian Kerner, PhD, author of Sex Detox
"The Porn Trap is an important contribution to understanding porn use and recovering from porn addiction. I highly recommend this book."
–Jennifer Schneider, MD, author of Untangling the Web and Back from Betrayal
"Informative and compassionate, The Porn Trap shows how porn problems can sneak up and trap you in compulsive sexual behavior before you even realize what's happened. The average reader as well as the seasoned therapist will gain a clear understanding of how to address the problem that now affects millions of people."
–Barbara Levinson, PhD, RN, LMFT, Center for Healthy Sexuality