The Sexual Healing Journey has just been released in both print and electronic format in by William Morrow Paperbacks/ HarperCollins publishers.
Originally published two decades ago, The Sexual Healing Journey is a is considered "the primary resource" for understanding and healing the intimate sexual problems caused by sex abuse. In this third edition, Wendy Maltz keeps this classic recovery book fresh with a new preface, revised materials, and an updated, expanded resource section. Compassionate and enduring, this guide presents a comprehensive program for healing that combines expert clinical advice with innovative exercises, steadfast techniques, and deeply moving stories of individuals who have overcome the challenges of sexual abuse to reclaim sex as safe, loving and enjoyable.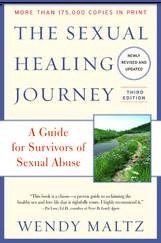 "This classic self-help book offers sound and detailed guidelines for sexual healing. Wendy Maltz stands out for her remarkable combination of wisdom, creativity, and heart."
—Harriet Lerner, Ph.D., author of The Dance of Anger??
"Clear, non-judgmental, warm and hopeful, The Sexual Healing Journey is a precious gift for male and female survivors and for those who care about them."?
—Mike Lew, author of Victims No Longer
"Men and women who have despaired that their sex lives would never change will find hope and answers in this friendly, encouraging, and essential guide."
–Laura Davis, coauthor of The Courage to Heal and author of Allies in Healing ??