Learning to distinguish healthy sexuality from other forms of sexual experience empowers you to bring healthy sex more into your own life and relationships.
Below you will find a chart entitled, "What Is Your Sexual Mindset?" This chart compares "healthy sexuality" with a "sexual abuse and sexual addiction" perspective on sex.
Pay attention to any items that concern or confuse you. You may want to discuss these ideas with a partner, friend, counselor, or health educator, to tease out the differences more. How you think about sex significantly affects how you and your partner will experience and feel about it. These distinctions can also serve as a guide when making decisions about what sexual activities and expressions you want to encourage and pursue in your life.
See and download the chart in either Spanish or English via the links below:
8 1/2 x 11″
¿Cuál es tu mentalidad sexual?
What Is Your Sexual Mindset?
11 x 17 or 18 x 24″
¿Cuál es tu mentalidad sexual?
What Is Your Sexual Mindset?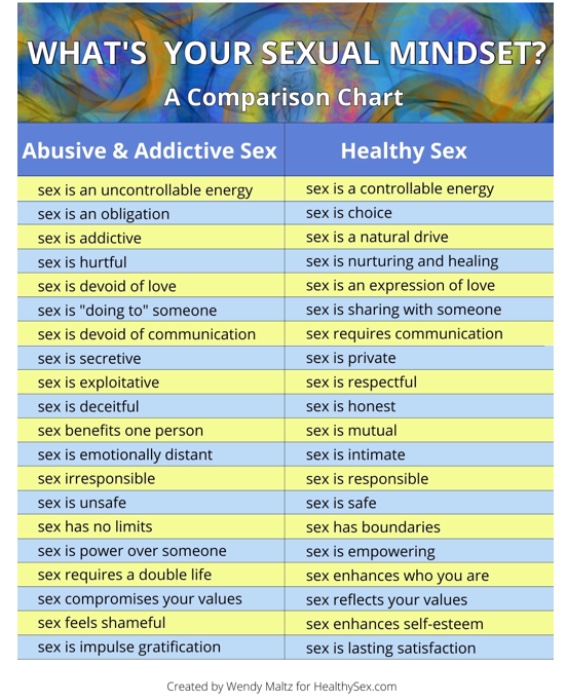 Note: If you are concerned about pornography, you may want to look at the comparison chart we developed for recovering porn users. Entitled, "Do You Know the Difference?" it compares "porn-related sex" to "healthy sexuality." This porn-oriented comparison chart is published in our book, "The Porn Trap: The Essential Guide to Understanding Problems Caused by Pornography" and is also available as a free poster that you can download on this site.
© Wendy Maltz, 2022